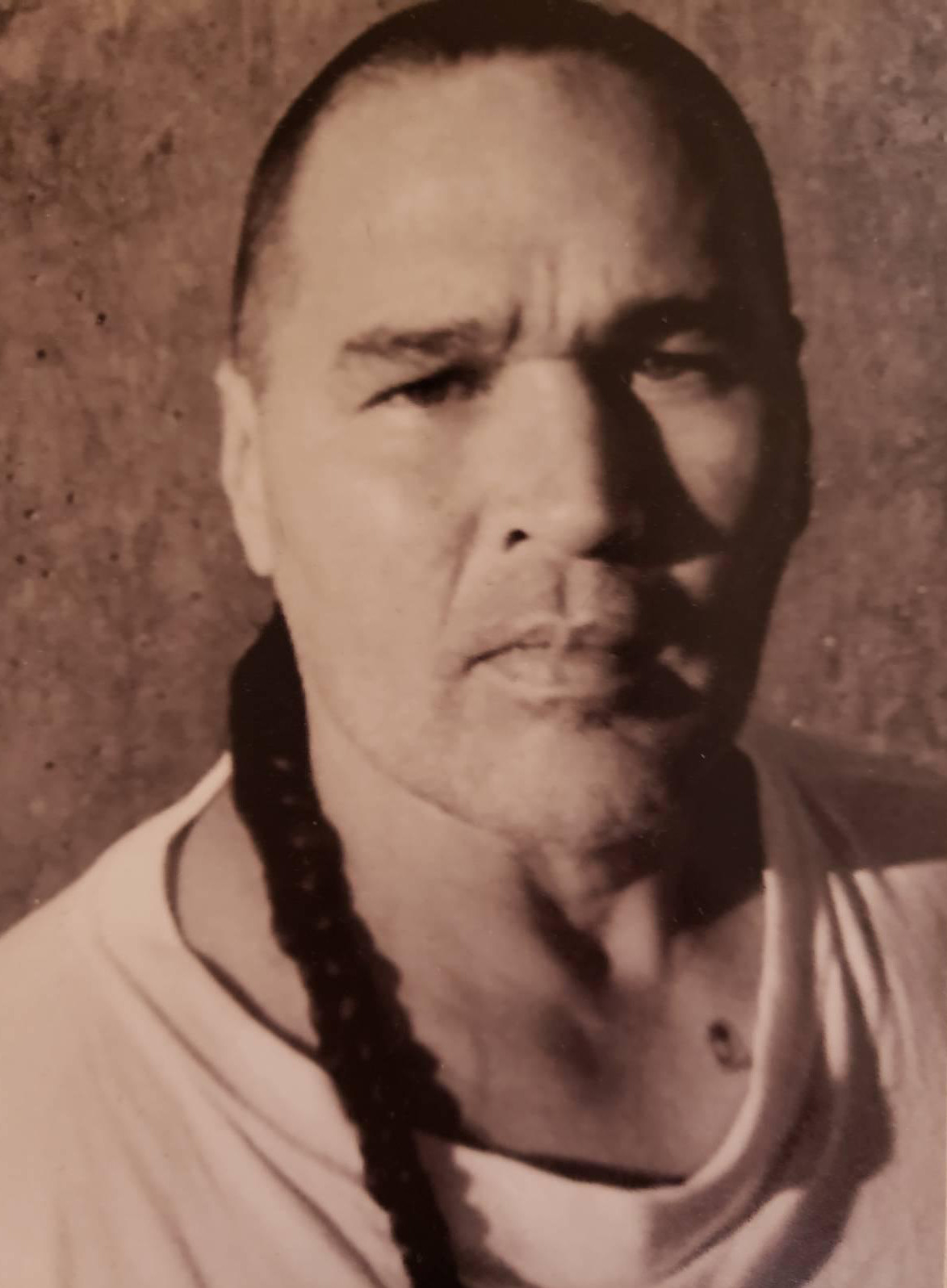 Oso Blanco is a native warrior.
While his Cherokee name is Yona Unega (White Bear), from growing up in New Mexico he is used to being called Oso Blanco (White Bear in Spanish). He is now serving 55 years in prison for bank robbery, aggravated assault on the FBI, escape and firearms charges. Oso Blanco defended himself from federal agents in a gun battle on August 13th 1999 at his home in Albuquerque, New Mexico. Although he escaped, he was arrested later that day. After being held just over a year in New Mexico State Penitentiary, he escaped from a prison transport van and almost immediately began robbing banks. He was recaptured a short time later. Oso Blanco never used a gun in any bank robbery, but he has a long history of living by the gun and will not hesitate to use it on the agents of repression or the occupiers of Aztlan whom force false laws on the true people of this land. He is not asking for monetary support– he's only asking that people become aware of indigenous people's issues. In an interview he expressed: "I am still able to hold my head up high and feel the gratification for my work in a world where money, power and destructive industries are regarded far above humanity, indigenous and impoverished peoples and cultures. I cannot help that I got deeply into my work…"
The Case:
In August 13, 1999, two FBI agents investigating the series of bank expropriations came to Chubbuck's apartment. The agents were interviewing Chubbuck's wife when he entered. A shootout between the agents and Chubbuck erupted and he was able to flee. During the shootout, no one was injured.
Oso Blanco was found a little while later in an adjacent apartment with family members. The FBI surrounded the apartment and within a half hour, Chubbuck allowed the family members to leave unharmed. Chubbuck, however, bashed through the walls in the building to slip into adjacent apartments in an effort to escape. He went through two or three apartments before emerging more than two hours later. Chubbuck tried to run but captured after being shot with several bean bags and attacked by a police dog.
He was charged with the robbery of 13 banks and the attempted robbery of a fourteenth. In addition to the robberies, he was also charged with two counts of assaulting a peace officer, two counts of possessing and discharging a firearm, and one count of being a felon in possession of a firearm, all in connection the standoff.
On December 21, 2000, Oso Blanco was being transported by the US Marshall's service from Albuquerque Federal Court to Santa Fe County Jail, when, after unlocking his handcuffs, kicked out the back window of the prison transport van.
He spent some time in Mexico after the escape, and then continued to expropriate funds from U.S. banks to send to Chiapas. Authorities believe he expropriated funds from about eight banks after his self-liberation. He was placed on the "15 most wanted" fugitive list.
On February 7, 2001, Oso Blanco was recaptured while unarmed after wounded by gunshots from thr Albuquerque police to his back and face.
In the end, he was accused of expropriating funds from about 20-22 banks. He was convicted on 14 of those charges. It is estimated that he expropriated at least $165,000.
In 2016, 25 years were taken off his sentence when he won his Johnson v. U.S. appeal.
News Summary